Egypt 2020
Travel, alone, with your partner or with friends
What we achieve?

Conscious Trips

Transformation

Increase

Experiences

Special trips

Value added
Places available

days
* (see conditions below)
From 5 to 8 passengers:
Price per Person in Double Room: 2. 925.00€
Single Room Supplement: 529.00€
From 9 to 16 passengers:
Price per Person in Double Room: 2,715.00€
Single Room Supplement: 517.00€
The order of the visits can be altered in destination for a better development of the itinerary.
All services are quoted in private service, with guide-researcher and bus for MINIMUM group of 5 people.
Specific causes of cancellation covered by the Insurance:
Illness or death of the holder or relative of up to third grade. As for the disease, it must be with a medical certificate of admission to hospital or clinic.
Call by Surgical Intervention of the Insured.
Medical quarantine following an accidental event.
Call as a member of a polling station.
Presentation to examinations of official oppositions, convened through an organization after the insurance subscription.
Serious damage caused by fire, explosion, theft or by force of nature, in the main or secondary residence of the insured.
theft of documentation or luggage that makes it impossible for the insured to travel. - No unexpected grant of visas.
Declaration of catastrophic zone in the place of domicile of the insured.
Incorporation into a new job in a company other than the one that performed its work.
Forced relocation of work place.
Professional dismissal of the insured, not disciplinary.
Declaration of the income made in parallel, made by the Ministry of Finance that results in an amount to be paid by the Insured in excess of 600.00 Euros.
Breakdown or accident in the vehicle owned by the insured.
Cancellation of the trip because the Insured travels with another similar cattle in a public lottery and before a Notary.
Police retention of the Insured.
Citation for divorce proceedings. - Delivery of a child for adoption.
Citation for transplantation of an organ.
Granting of official scholarships.
Call for presentation and signature of official documents.
Judicial declaration of suspension of payments or bankruptcy of the company.
Data needed to make the reservation:
Name and Surname as they appear in Passport.
Passport number with a minimum validity of 6 months.
Date of birth. - Date of issue and expiration of the passport.
At the time of confirmation the payment of the air seats will be made to secure them.
Contact telephone numbers: Anael Tours.- Ana Isabel Delgado.- 91 885 704 // 650 885 704.
E-mail contact: Ana@anaeltours.com // Alejandro@anaeltours.com.
OUR PRICE INCLUDES:
• Flight ticket in regular flight, Cía. Egyptair flying in Tourist class for the Trayectos: Madrid - Cairo - Aswan // Luxor- Sharm el Sheikh - Cairo - Madrid.
• Air Fees (which may be modified at the time the ticket is issued).
• Entry visa to Egypt.
• Professional guide-researcher, Moheb Afifi, Spanish-speaking throughout the tour in private.
• Private transfers by air-conditioned bus airport-hotel-airport and airport - port-airport.
• Porters in hotels, airport and port throughout the tour.
• 1 night stay at Hotel Tolip Aswán on Half Board (NO drinks included).
• 3 night cruise on the MS ACAMAR motorboat in Full Board (drinks not included). With all cruise visits included.
• 2 nights stay at the Sheraton Cairo Hotel on Bed and Breakfast on the first day and on Half Board on the second day (NO drinks included).
• 1 night stay at the Seti First Abú Simbel Hotel on a Full Board basis (drinks not included).
• Assistance to the light and sound show of Abú Simbel.
• 4 nights stay at the Savoy Hotel in Sharm el Sheik on a Half Board basis. (Does not include drinks).
• Excussion to Mount Sinai to contemplate the sunrise and subsequent visit to the Monastery of Santa Catalina.
• Excursion to Ras Mohamed National Park by boat with snorkeling in the Red Sea.
• Visit the Khan el Khalili Market + Walk through Al-Moez Street in Medieval Cairo.
• Farewell dinner in the city of Cairo (Does not include drinks).
• Visit of Pyramids + Sphinx + Egyptian Museum of Cairo with Lunch in a Local restaurant (drinks not included).
• Basic tips: luggage, chauffeurs and boat crew. It does NOT include the guide-researcher.
• All tickets for the visits described in the itinerary.
• Accompanying guide of Anael Tours throughout the tour to help them in the procedures at airports, hotels, cruise, etc….
• Personalized documentation.
• CIA accident and assistance insurance. Axa Seguros that covers cancellation expenses up to € 2,000.00 (in the above-mentioned causes) and Medical Expenses Assistance up to € 12,000.00.
OUR PRICE DOES NOT INCLUDE
• All kinds of extras in hotels and restaurants, such as: drinks at lunch and dinner in hotel, restaurants and boat, laundry and ironing, telephone calls, minibar, etc.
• Drinks on the Nile Cruise ship and restaurants. We advise to pay for the drink "on the spot" because it pays for what is consumed, since the beverage packages are not always consumed and are expensive.
• Supplement of tickets to the monuments, planned as of 01.11.2020.
• Any other service not specified in this itinerary or in our section "OUR PRICE INCLUDES"
MOHEB AFIFI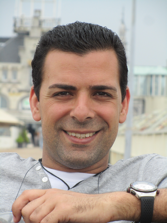 Degree in Hispanic and English Philology
Bachelor of History and Tourism Egyptologist
Tourist Advisor
Hypnosis Therapist
Expert in Neurolinguistic Programming
Personal Development Researcher and lecturer
Well-known professional Spanish-speaking guide from Egypt who will show us the secret Egypt, the one that does not come in the guides, the one to be discovered with closed eyes and an open heart. A fantastic trip through temples, tombs and pyramids that we can feel and that our guide will help us incorporate into the fascinating world of our emotions. He will guide us on visits that will make us feel the hidden Egypt, the subtle energy with which the priest-magicians worked with their catalytic capacity for rebirth and interior development.All this also enjoying the playful part, the encounter with an Egyptian of bazaars and tea shops, parties and golden sunsets on the banks of the Nile.
GENERAL CONDITIONS
Minimum of Participants.- This budget is made for the dates from 04 November to 15 November 2020 and is subject to a minimum of 5 participants. Any variation in the number of people could lead to a modification in the final price of this budget.
DATE OF PREPARATION OF THE BUDGET
This budget is prepared based on the prices in force in the month of JANUARY 2020 and is subject to possible variations, such as: increases in fuel costs, increases in air fares and other services. In this case the price would be increased in the same way that these increases affect it.
IMPORTANT NOTE
This budget is subject to availability of places at the time of hiring. No reservations have been made in air seats, hotels and land services.
WAY TO PAY
500€ upon confirmation of the place corresponding to the amount of the air reservation. Rest of the amount to be paid in several installments, the last term being at the end of September 2020 (May - July - September).
Send us the following reservation form and we will contact you.
Email: info@anaeltours.com
Tlfn.: 91 - 842 89 58